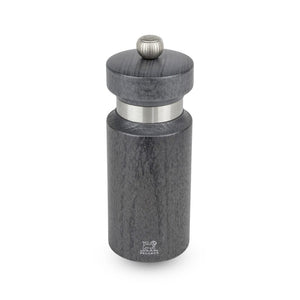 Peugeot Saveurs' Royan Mills are meticulously crafted in France. The pepper mechanism features a helix-shaped double row of teeth, ensuring an impeccable grind. A patented treatment safeguards the steel from corrosion, preserving both its sharpness and wear resistance.

For classic grind adjustment, simply tighten the top knob (clockwise) for finer grinds or loosen it (counter-clockwise) for coarser ones. Peugeot Saveurs' unique mechanism maximizes the release of flavor and aroma by initially cracking each peppercorn before the grinding process.

Note. This product is sold either as a single salt or single pepper mill. Please note that the grinding mechanism is different between the salt & pepper mills, so if you purchase a single mill, choose which one you'd like based on how you plan to use it.
Specifications
Height: 5.5"
Materials: Wood & Stainless Steel
Hand wash