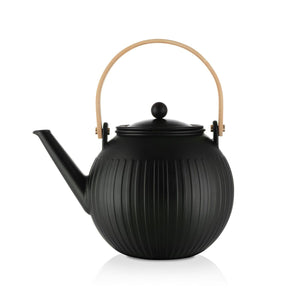 Bodum's matte black Douro tea press is fitted with an oak handle featuring classic open grain. The included Stainless-steel press uses a patented system which stops tea from brewing once the plunger has been lowered, preventing bitterness.
How to Use:
Place the Douro tea press on a flat, heat-proof, non-slip surface.




Add your preferred tealeaves into the filter. We recommend 2-3 scoops of black tea or 3 scoops of herbal tea for each liter of water.




Pour in hot water, ensuring the water stays below the MAX fill line.




Place the lid on the pot with the plunge in the raised position, and let your tea brew – 3-5 minutes for black tea, or 5-10 minutes for herbal and fruit teas.




Once your tea is at its preferred strength, firmly press the plunger down to stop the brewing process. Serve and savor.



Specifications
Phthalate, BPA, lead, and latex free

Dimensions: 6.75" H x 7" Diameter
Holds approximately 51 fluid oz (1.5 Liter)

Wash in warm, soapy water before first use and after each subsequent use